To Asher being potty trained that is! Two days ago he and Violet were in the tub and I stepped out for a minute when I heard him get out. I was about to get after him when he told me that he had to go pee pee and he did!!! I was so floored! This from the boy who acted like we severed his arm when we suggested that he use the potty. For the last two days now he has been going every hour and it is working! We haven't worked out the "other" yet, but the peeing is going great! We went and got some "potty candy" from the store and for every time he pees he gets one and the other he gets 3! He tells everyone this, in the store, on the street, wherever. It is quite funny. Aaron had a short day today and we spent time together. It was nice. Tomorrow we have to take the kids to the doctor. We are going to address Asher's eating habits and Violet has to get some immunizations. I have done some more scrapping. Here they are: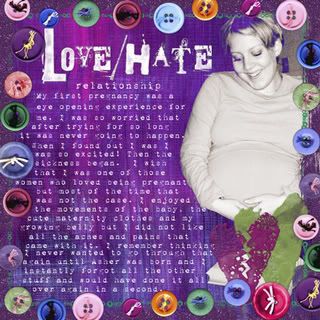 I made this for the new challenge blog at www.hodgepodge.com. It is run by Gina Miller and Traci Murphy. This page is about my love hate relationship with being pregnant. I am not pregnant now. It was very out of the box for me and quite freeing.
This is a photo taken while dyeing easter eggs this year. Violet is having more and more tantrums these days and they are becoming more intense every day. This page is an ode to her tantrums. It is also a hodge podge challenge page and for Meredith's team.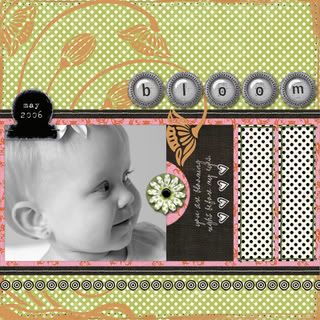 This is for Teresa's team. It is her new kit "Foot Loose and Fancy Free" I also used her smarties template vol.1 No huge meaning, just a cute photo and the journaling says "You are blooming before my eyes"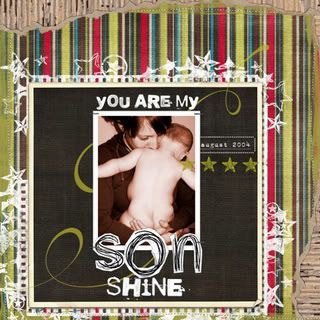 This is for Meredith's team. I love this photo!! It was really bad quality and I put several effects on it to achieve the look. It is also for Lauren's team. I used her cool new alpha "Don't write on me."
That is all the scrapping for now. Well I think that's it, I want to watch Conan now so peace out.