I am sooo tired but it is bugging me that I haven't posted in so long! This has been a long week for me and now the weekend is over too :(
.............
Asher has been doing ok with the potty training. Some days he will go all the time and then there are days like today where he did not make it to the potty once :( Oh well keep trying right?
.............
Violet now knows how to count and knows how to put together a puzzle! sigh....my little baby is not a baby any more :(
.............
I have been scrapping some lately. I was pm'ed at DST by Emily and Angela Powers and asked to work with their new templates! I was so psyched! They are truly amazing and I can't believe that they asked me! I made two pages with them.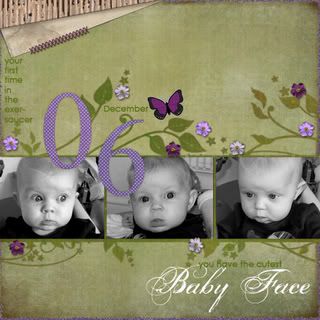 .............
Credits are mostly Meredith Fenwick but you can check my gallery link for complete credits.
............
I joined three more teams this last little bit. I am standby at www.scrapgypsies.com. This is a site for all types of scrapper (paper, digi, altered art, etc.) and many many designers. I have not been moved to the permanent team at this point. You can see my profile here:
http://www.scrapgypsies.com/?page_id=101
I also joined Michelle Godins team. She is a up and coming designer and she is fantastic!! She sells at www.scrapbookgraphics.com! The cool thing is that Rachel my sister in law tried out for the same team and she made it too! Yay! How fun is that ? I also got asked by a friend named Jennifer to be on her team. She goes by Jennilyn Designs and currently sells at www.thedigishoppe.com but will be moving to her own store in May. I have also been asked to be a part of a cool new team but shhh it's a secret that will be revealed May 1st!

..............
Here are some more pages:
this is for Michelle Godin CT. I love this photo of Asher! He is sportin his mohawk and looks so tough. I actually think that this was taken about 2 seconds before a major meltdown :)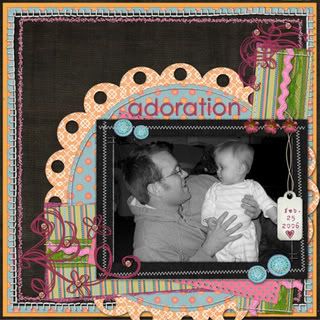 This is for the 2nd Hodge Podge Challenge and also for Teresa Ferguson's team. How cute is that photo of Violet and Aaron? I love it :)
This is for Jennilyn's team. This is Violet on her first birthday learning to walk. About a week later she was doing it all on her own.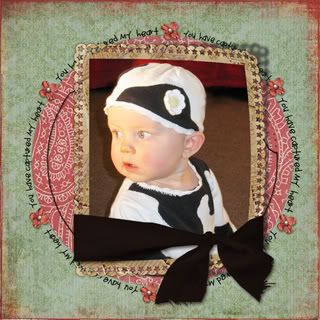 This is for Meredith Fenwick's team. I love these big bows made by Natalie Braxton! I adore this photo of Violet and just wanted a simple page to showcase it.
...............
Ok I am now delusional and tired and I am going to have to end tonight. I have more juicy news in the next couple of days :)